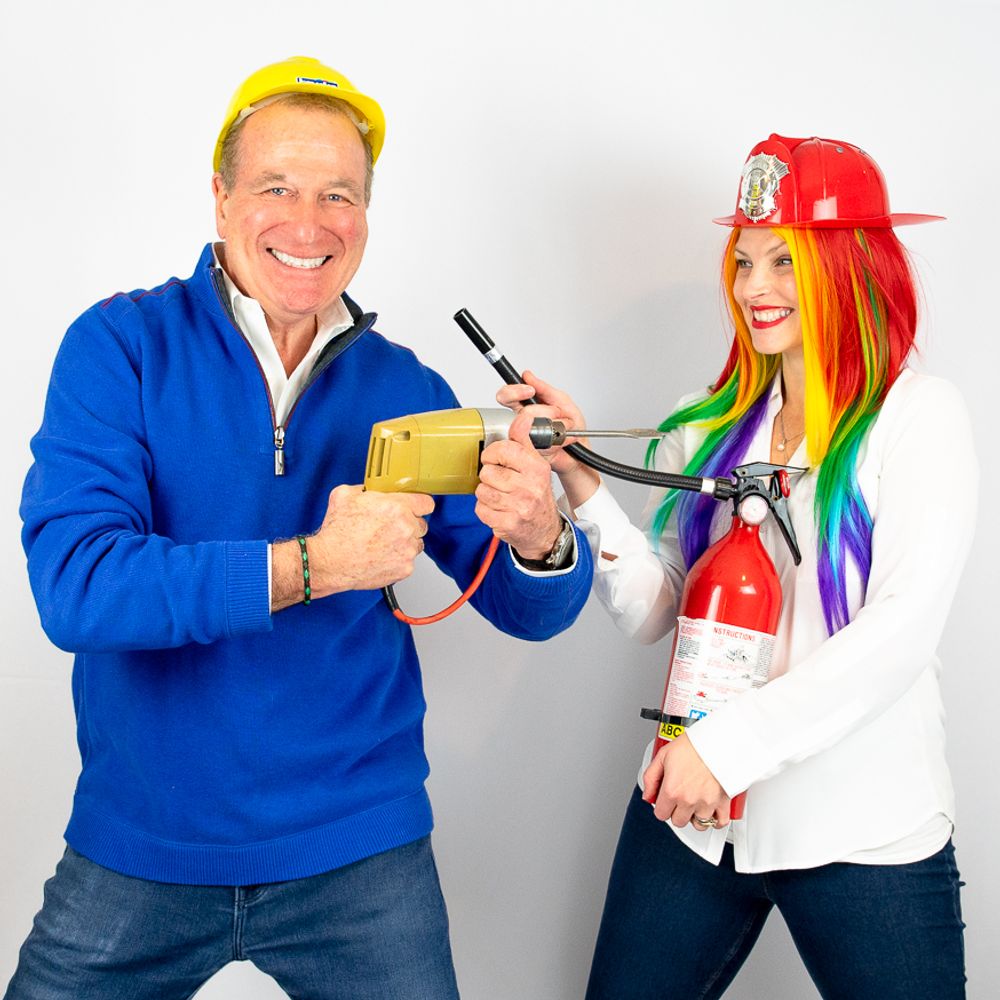 HOLD ONTO YOUR HATS!
HATS!!!
Al deCant and Jill Kubeck have written a new interactive musical show about the many hats people wear everyday in their lives for children ages 3-10. Come explore this musical journey and learn about the countless hats people wear, and how those hats make us who we are while helping to make a difference in the lives of others! A fun and inspirational program for every little superstar that will spark their imagination about the hat they may want to wear when they grow up.
Debbie Brooks Head of Children's Services writes:  
 We had Al deCant and Jill Kubeck here on Saturday for Take Your Child to the Library Day. They performed their brand new "Hold Onto Your Hats" show for us (we were their first audience hearing their new songs) and it was fabulous! Al and Jill wear many different hats during the performance, and sing songs that talk about all the different hats people wear in their everyday lives, and delve into what kids may want to be when they grow up. They sang about police officers, chefs, zoo keepers, train conductors, moms, dads and many more. They touch on diversity too -- and talk about how different people make the world a better place. Al and Jill are highly interactive, and involve the children during the entire show.
Hats off to Al and Jill for a great performance -- I strongly urge you to contact Al to set up a show at your library or school.
Debbie Brooks Head of Children's Services            The Brookfield Library                                                    182 Whisconier Road Brookfield, Connecticut        Phone 203-775-6241  
Enthusiasm is catching!
Al deCant's concerts for schools, libraries, and preschools are high quality children's entertainment at its best. Al is a critically acclaimed concert performer and educator from Connecticut who has entertained and educated thousands of young people through his programs of music and storytelling. Al's music and character education themes are being used in schools and classrooms throughout Connecticut. Parents, teachers, and children immediately respond to the catchy tunes and lyrical wit of this veteran singer/songwriter/educator.  Al's original comic and soulful songs are enjoyed as much by adults as they are by children.
 Elementary Schools & Libraries
Rockin' & Reading with Pete the Cat!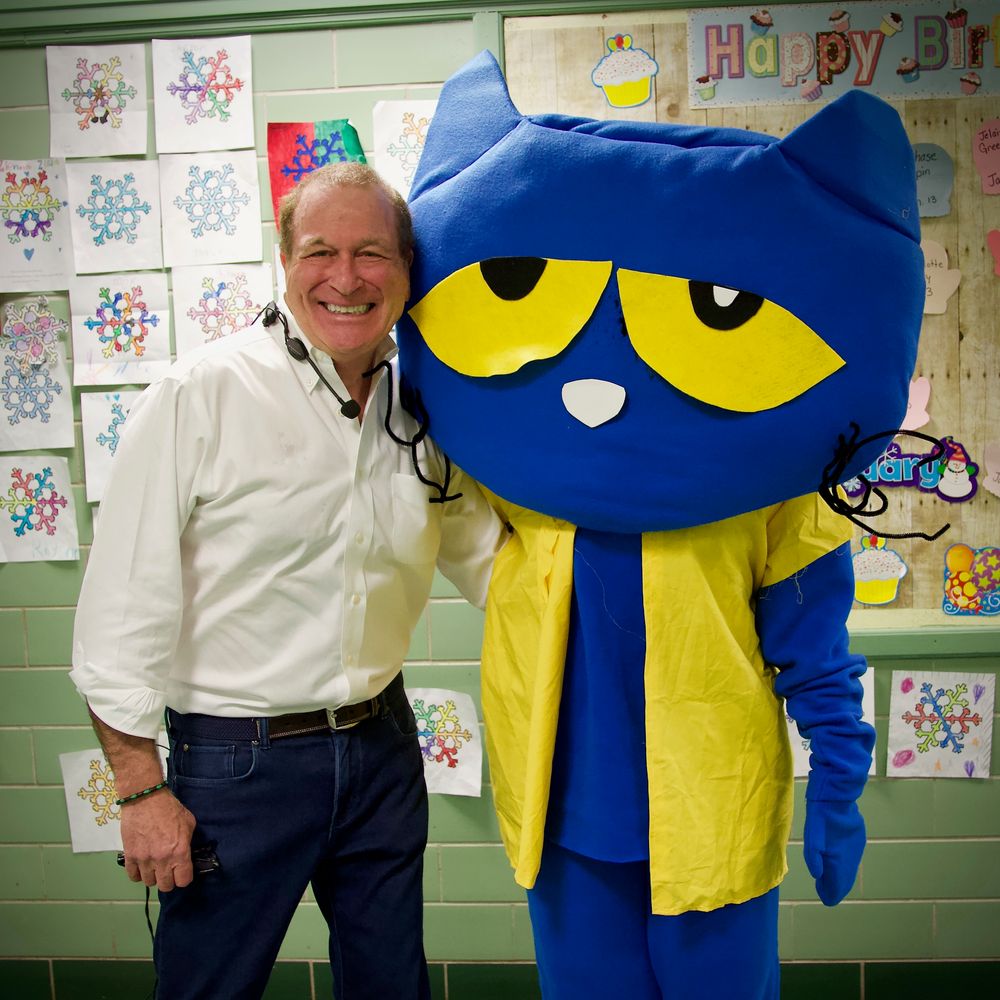 "Rockin' and Reading with Pete the Cat!" (K-2) (3-5)
"Rockin' and Reading and Pete the Cat!" is a highly interactive musical performance that promotes the joy of reading and empowers kids to discover their own potential for becoming life long readers. Al's spirited performance is packed with toe tapping music, great stories, and heaps of audience participation that celebrate the reading experience for children of all ages. Working with Eric Litwin, the author of the first four Pete the Cat books, Al will bring Pete and his adventures from Rocking in My School Shoes and Pete the Cat and His Four Groovy Buttons to life while strumming out Pete's very cool and groovy songs on his guitar. Songs from Al's CDs, "MetaMorphosis", "This Little World" and "WE ARE C.A.R.I.N.G." as well as a bunch of newly written music will be featured.
C.A.R.I.N.G.  Kids Assembly (K-2) (3-5)
With Al's vast experience working with elementary school children, his shows are second to none.  Al's C.A.R.I.N.G. KIDS Assembly will bring  excitement and high energy together for a lively, interactive performance for children, teachers and families. (CARING is an acronym for Courteous, Achieving, Responsible, Interested, Neighborly and Growing,) The message and content for a school performance will differ according to the grade levels attending the show.  Al's performance uses original interactive songs and stories that encourage students to think about how they relate and treat one another and to consider the effects of their actions.  In this program children will sing along, laugh, and reflect on how it feels to be in someone else's shoes. Cooperation, communication, tolerance and empathy are the key ingredients in this performance.
Elementary School or Library Family Night - Pre K – Grade 5
This is an opportunity to invite the entire school community to come together for a really outstanding evening of high quality family entertainment.  With Al's vast experience working with elementary school children, your Family Night will be an evening to remember. The message and content for a school performance will differ according to the grade levels attending the show. Al presents kid tested original upbeat interactive songs and stories which encourage students to think about how they interact with one another, nature and the environment. Themes for Family Night can be customized to meet your needs and interests. One popular theme is the Literacy PAJAMA JAM Night!  Children come in their pajamas, robes, slippers; they can bring a pillow or a teddy bear and of course their favorite book! Al provides your school with all the necessary information to send home to parents as well as reading incentive ideas to make this a meaningful and memorable event. 
 Preschools

 
Preschool Concerts
Al's gentle and playful energy will capture the attention of your preschoolers.  Al's preschool visits are fast paced and filled with age appropriate music, movement and laughter.  Al will keep your preschoolers engaged and entertained with traditional favorites and kid tested original songs.  They'll delight in sharing their ABC's and many of their newly acquired skills and concepts they have learned in preschool. 
 Al can also perform an interactive literacy program featuring Pet the Cat, The Very Hungry Caterpillar, and the Very Busy Spider to mention a few.
The Learning Grove/Music for Little Superstars Music Classes
These Movement & Movement Classes are a fresh new choice from other music and movement programs for children 2 to 5 years old.  With all new original songs and some traditional favorites The Learning Groove/Music for Little Superstars is a program guaranteed to delight children and their families.  The Learning Groove/Music for Little Superstars classes are not only tons of fun for young children but a means to enhance their overall social, physical, emotional, and cognitive development. The Learning Groove/Music for Little Superstars believes that all children are musical and can learn to play a variety of rhythms and yes, even sing in tune.  Our goal is to promote a love of music, develop coordination, rhythm, and self-confidence.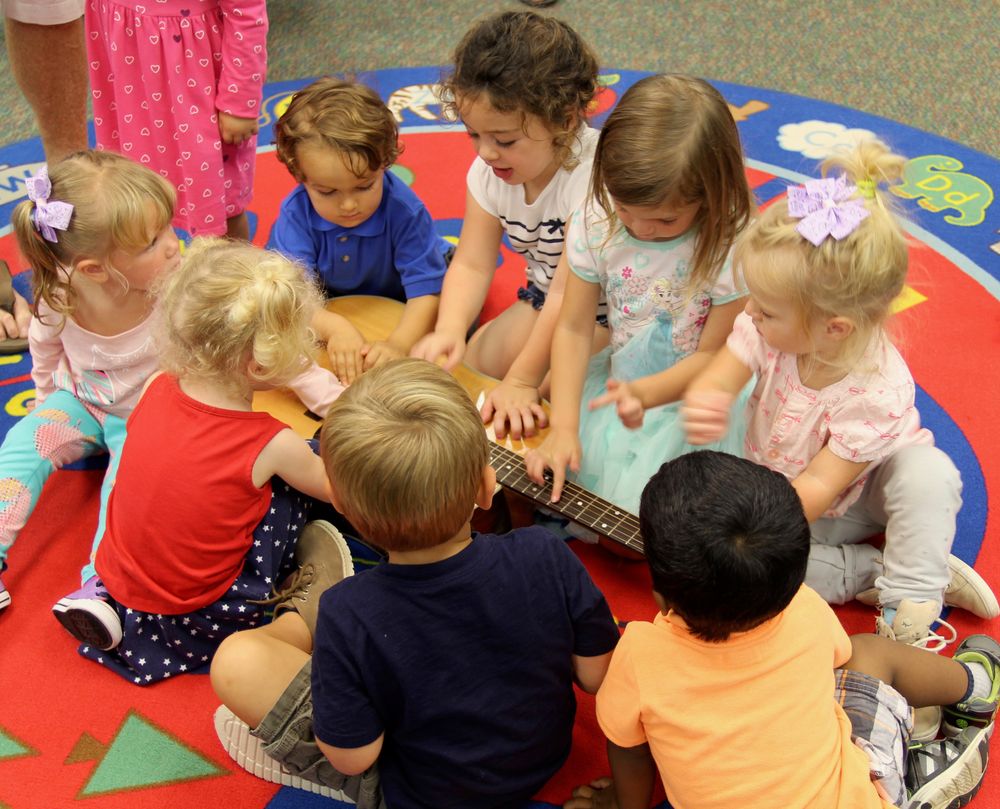 BIRTHDAY PARTIES!    
Families will sing, dance & laugh together with an Interactive Music Performance by Mr. Al.  Each performance is 40-45 minutes. Mr. Al will bring along his guitar, shaker eggs, rhythm sticks & lots of other instruments and props to make your child's birthday an unforgettable event. Fun for the entire family! 
There are three types of performances available: 
Music Class Style; 20 children or less; with shakers, rhythm sticks, parachute, silk scarves, puppets, and a plethora of other props.
                                                                                                                                                                                                                                          More than 25 children with small PA and all the goodies.
Concert Style; any number of children. Using a state of the art Bose PA, Mr. Al uses a wireless system for vocals and guitar giving him complete freedom to mingle and interact with the audience.